Stivers Ford of Birmingham | Ford Dealer near Homewood, Hoover
Why Choose Our Ford Dealership
For all of your automotive needs, our Ford dealership serving Birmingham Homewood Vestavia Hills Hoover is honored to assist you. We maintain high standards for customer satisfaction and integrity. You can always expect our dedicated sales, financing and service associates to give you factual information and to help you make decisions that suit your needs. Whether you are ready to explore the exciting possibilities in our new model inventory or auto care services for your vehicle, we are eager to support you.
For more than a century, drivers have been impressed by the all-around excellence of our models. Our Ford trucks, SUVs and cars carry on the brand's tradition by wrapping innovative engineering and advanced features with modern styles. In our large inventory, we always have a diverse selection of the latest models for shoppers to explore. In fact, because of our focus on refreshing the inventory frequently, our customers often are able to find something that suits them well on their first visit. Rest assured that you will be well supported by our team and enjoy a no-pressure sales experience when you shop at our dealership in the Birmingham area.
Automotive care plays an essential role in optimizing vehicle longevity, performance and safety. The modern service facility at our Ford dealership is fully equipped with all of the advanced equipment and tools needed for all types of services. In addition, our certified automotive specialists have access to a large inventory of our brand's parts, which allows us to complete both routine maintenance work and repairs with efficiency. Online scheduling and expanded service hours are available for your convenience.
Rather than hunting on your own for reasonable financing terms for your next auto purchase, we invite you to put our team to work. Our dealership serving Birmingham Homewood Vestavia Hills Hoover is affiliated with numerous recognized and established lending institutions. Because of their wide variety of lease and loan programs, we can quickly narrow down the programs to those that you qualify for. The only step that you need to take to review your options and get approved is to apply through our website today.
Ford Bronco
If you're looking for an SUV that can take on any adventure in Birmingham, the new Ford Bronco is the perfect choice. With its seven "Goes Over Any Type of Terrain" (G.O.A.T.) driving modes, the High-Performance Off-Road Stability Suspension (HOSS) System, and durable underbody protection, the Bronco is equipped to handle even the toughest of terrains. Plus, with its bold design and countless other trail-ready features, it's never been easier to leave the asphalt behind and embrace your inner adventurer.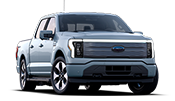 Ford F-150 Lightning
The Ford F-150 has taken on a new level of power with the introduction of the electric Lightning edition. This pickup boasts an estimated range of 320 miles, a quick acceleration of 0 to 60 mph in around 4.5 seconds, and a formidable towing capacity of 10,000 pounds, making it capable of tackling any task. Plus, with its eco-friendly electric powertrain, the F-150 Lightning combines the rugged capabilities of the classic F-150 with a new level of sustainability. Don't miss out on the chance to experience the best of both worlds with this impressive electric pickup.
Ford Mustang Mach-E
If you're looking to add some excitement to your daily commute, consider the new Ford Mustang Mach-E. This electric powerhouse combines the iconic style of the Mustang with the efficiency of an all-electric engine, allowing it to accelerate from 0 to 60 mph in just 3.5 seconds and travel over 300 miles on a single charge (when properly equipped). So why settle for a boring commute when you can experience the thrill of traditional Mustang power with the added benefits of an eco-friendly ride?
Ford F-150
If you demand the best in the pickup truck market, then it's time to make the Ford F-150 your new ride. With its top-of-the-line towing capabilities, advanced Ford SYNC technology, durable military-grade aluminum body, and numerous other features, it's no wonder the F-150 is America's favorite truck. So why waste your time considering any other options? Choose the best and leave the competition in the dust.
Ford Explorer
The new Ford Explorer is the perfect vehicle for your next adventure. With its spacious seating for seven, the available Cargo Management System to keep all your belongings organized and easily accessible, and a stunning twin-panel moonroof, this SUV has everything you need to make your road trip the journey of a lifetime. And with its numerous other premium features and class-leading capabilities, it's no wonder so many people turn to the Explorer when it's time to hit the road. So why wait? Start planning your next adventure and get behind the wheel of this amazing vehicle.
Ford Maverick
The Ford Maverick is a compact pickup that knows how to blend power and flexibility seamlessly. Whether you enjoy access to DIY bed storage dividers, built-in Apple CarPlay and Android Auto functionality, or premium upgrades (including a comfy eight-way power driver's seat and 18-inch machined aluminum wheels), odds are that the Maverick and its copious customization options will end up being the perfect match for you as you make your way around Birmingham.
Each of our customers in the Birmingham area has specific needs for their next vehicle, such as a specific towing capacity, the need for extra passenger seating and more. We want you to find a new truck, car or SUV that suits your specific interests and needs without hassle, so we keep our inventory stocked with both new and pre-owned vehicles. In addition to carrying many pre-owned Ford models, our inventory at Stivers Ford of Birmingham includes options from other automakers. Both our new and used vehicle inventories are listed on our website for you to browse through today.
Whether you stop by our auto dealership today to check out our latest models or you visit us for service or other needs, you will be treated to superb customer service. We want each visit to be both enjoyable and productive. Visit our Birmingham dealership soon, or reach out to us online for assistance.