Save More on Your Next Ford in Birmingham AL at Stivers Ford of Birmingham
Realizing your automotive dreams is easier than ever thanks to the Stivers Ford of Birmingham team. Whether you are looking to make the most out of your budget with a reliable and clean used car, truck, or sport utility vehicle (SUV) or the latest premium offering from Ford catches your eye, one fact remains consistent: Getting what you want out of this important major life event is a breeze with Stivers Ford of Birmingham on your side.
Want to learn more about the Stivers Ford of Birmingham difference yourself? Then follow along as offer up an in-depth look at the myriad reasons why savvy shoppers in and around Birmingham turn to our team of friendly automotive experts first when the time comes to drive home in an affordable used car or one of the latest Fords to roll onto our showroom floor.
Countless Options to More Than Meet Your Unique Needs
One of the biggest reasons why people from all over Birmingham shop at Stivers Ford of Birmingham comes in the form of our ample inventory. With access to hundreds of new and used vehicles, including pre-owned options from a variety of automakers and the latest members of the Ford family, it is safe to say that the right car for you is already waiting on our lot. The only thing left to do is the easiest part of the whole process: Come in and take it for a test drive yourself before taking it home to park in your front driveway or garage.
The icing on this cake? Stivers Ford of Birmingham respects your budget and takes immense pride in pairing up our customers with their dream vehicles, so you can also count on us to provide the best possible prices in Birmingham. From budget-friendly used cars, trucks, and SUVs to a wealth of incentive programs and specials on new Ford vehicles, you can shop with confidence knowing that the automobile you've always desired is both in stock and available at Stivers Ford of Birmingham at a great price.
Getting Financed at Stivers Ford of Birmingham Is Easy
One of the most common questions we get on a daily basis focuses on the process of securing financing for a great new or used car, truck, or SUV. Fortunately, getting financed at Stivers Ford of Birmingham is always an easy, quick, and simple undertaking, regardless of which vehicle we have listed for sale at a great price strikes your fancy.
When the time comes to lock in the right loan for you and your automotive future, our team of financing experts will be ready and willing to guide you through each step of this important process and leverage our connection with a host of different lenders to pair you up with the perfect loan for your unique financial situation. All you have to do is kick back and let the men and women behind Birmingham's most enjoyable and convenient car buying and financing process handle things on your behalf. For first time car buyers and returning Stivers Ford of Birmingham customers alike, there's plenty to love with this leading approach to getting the right financing for your next car loan.
The Perfect New Ford Is Waiting for You
Not quite sure which stunning new Ford car, truck, or SUV is right for you and your family as you make your way around Birmingham? Then spend a moment with us as we shine a spotlight on some of the most exciting new offerings from Ford that are ready and waiting for you to come in and take for a spin today:
Ford Bronco
If you're looking for an SUV that can take on any adventure in Birmingham, the new Ford Bronco is the perfect choice. With its seven "Goes Over Any Type of Terrain" (G.O.A.T.) driving modes, the High-Performance Off-Road Stability Suspension (HOSS) System, and durable underbody protection, the Bronco is equipped to handle even the toughest of terrains. Plus, with its bold design and countless other trail-ready features, it's never been easier to leave the asphalt behind and embrace your inner adventurer.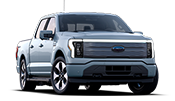 Ford F-150 Lightning
The Ford F-150 has taken on a new level of power with the introduction of the electric Lightning edition. This pickup boasts an estimated range of 320 miles, a quick acceleration of 0 to 60 mph in around 4.5 seconds, and a formidable towing capacity of 10,000 pounds, making it capable of tackling any task. Plus, with its eco-friendly electric powertrain, the F-150 Lightning combines the rugged capabilities of the classic F-150 with a new level of sustainability. Don't miss out on the chance to experience the best of both worlds with this impressive electric pickup.
Ford Mustang Mach-E
If you're looking to add some excitement to your daily commute, consider the new Ford Mustang Mach-E. This electric powerhouse combines the iconic style of the Mustang with the efficiency of an all-electric engine, allowing it to accelerate from 0 to 60 mph in just 3.5 seconds and travel over 300 miles on a single charge (when properly equipped). So why settle for a boring commute when you can experience the thrill of traditional Mustang power with the added benefits of an eco-friendly ride?
Ford F-150
If you demand the best in the pickup truck market, then it's time to make the Ford F-150 your new ride. With its top-of-the-line towing capabilities, advanced Ford SYNC technology, durable military-grade aluminum body, and numerous other features, it's no wonder the F-150 is America's favorite truck. So why waste your time considering any other options? Choose the best and leave the competition in the dust.
Ford Explorer
The new Ford Explorer is the perfect vehicle for your next adventure. With its spacious seating for seven, the available Cargo Management System to keep all your belongings organized and easily accessible, and a stunning twin-panel moonroof, this SUV has everything you need to make your road trip the journey of a lifetime. And with its numerous other premium features and class-leading capabilities, it's no wonder so many people turn to the Explorer when it's time to hit the road. So why wait? Start planning your next adventure and get behind the wheel of this amazing vehicle.
Ford Maverick
The Ford Maverick is a compact pickup that knows how to blend power and flexibility seamlessly. Whether you enjoy access to DIY bed storage dividers, built-in Apple CarPlay and Android Auto functionality, or premium upgrades (including a comfy eight-way power driver's seat and 18-inch machined aluminum wheels), odds are that the Maverick and its copious customization options will end up being the perfect match for you as you make your way around Birmingham.
Want to dive even deeper into the Ford difference and take one of these outstanding vehicles out for a test drive? Then go ahead and call the team of friendly professionals here at Stivers Ford of Birmingham today and we will assist you as you work toward the new Ford car, truck, or SUV that suits your daily commute here in Birmingham perfectly.
Take Advantage of Birmingham's Leading Used Car Lot
If a pre-owned vehicle is more your speed, then we have some great news: You have come to the right place. Stivers Ford of Birmingham is proud to serve as the home of Birmingham's leading used car lot, so you can always count on our team to have exactly what you are looking for in your next used car purchase. From exciting Certified Pre-Owned vehicles from Ford that come with ironclad quality guarantees and protections that are sure to keep you confident along every mile traveled, to a host of other used cars, trucks, and SUVs from a variety of other automakers, our selection is second to none here in Birmingham and sure to have exactly what you are looking for out of your next used car purchase.
The best part about shopping for a great used car with our team of helpful professionals on your side? By tapping into the Stivers Ford of Birmingham difference during this crucial process, you can enjoy fast, friendly financing, low prices, and reliability that is never in question, regardless of which pre-owned vehicle fits your unique situation and preferences. Each and every pre-owned vehicle showcased on our lot must undergo a rigorous inspection process, so you can shop with confidence knowing that reliability and lasting quality always go hand-in-hand with affordability on our used car lot.
Let Us Help You Today
Now that you understand why so many discerning car buyers in Birmingham turn to us first, there is really only one more question to answer: Are you ready to come enjoy all of the benefits that come with shopping at Stivers Ford of Birmingham? If so, call 205-964-8980 today to schedule an appointment with one of our friendly used car or Ford experts. After doing this, you will be well on your way to securing both a great deal on the car you've always wanted and the right loan at a rock-bottom interest rate.